Everyone Woman Needs a She Shed
You've heard of a man cave, and everyone knows that hubby gets the garage, but what special space can a woman call her own? Every woman needs time to herself–outside of the kitchen, her office, or a bedroom. Being a wife and a mom can often leave a woman feeling as though she has no space to call her own or anything special for herself because she spends so much time providing for everyone else. Now it's time for mom to get her very own place where she can get together with her friends or relax by herself and a She Shed is the perfect way to achieve this.
What is a She Shed?
A She Shed is a large, backyard shed that usually resembles a miniature barn or cottage. These wooden sheds are as big as 16 x 28 feet and can accommodate any size backyard. The perfect She Shed should have a moisture floor barrier, radiant barrier roof and be heated and cooled for spending time outdoors.
Women love She Sheds because they are customizable by color, size, and style. She Sheds are the perfect little escape for mom, away from the house but still close by if anyone has an emergency. Some she sheds look like small houses and can have covered porches added bringing all the comforts of the main home to the small She shed.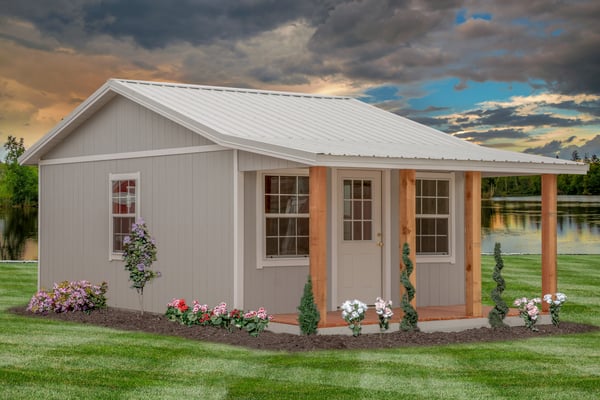 How Can A She Shed Be Used?
She Sheds can be used in many different ways. Some women love to create their own private library and reading nook where they can escape quietly into a book and relax. There are other women who love to turn their She Shed into an entertainment space where they can hang out, drink wine, and have great conversations with friends.
Professionals who do not have space for an office inside of their homes can use a She Shed to create the office space or den that they've always wanted. A She Shed can be decorated to reflect a woman's personalities, hobbies, and favorite things.
Some women use their she sheds for crafting space. If your husband can't stand the glitter, glue, feathers, beads, and other crafting items, a She shed is the perfect place to hide out and craft to your heart's content without driving everyone else crazy. She Sheds for crafting are also the ideal solution for keeping kids away from your crafting supplies.
How to Build a She Shed
There are plans you can purchase online to build you're wooden she shed yourself, but the best plan is to contact a local Texas She Shed company to build your shed for you. Because there are so many ways to customize your She Shed, a professional builder can help make sure that you get anything you want in your She Shed.
She Sheds are not just simple wood structures with four walls and a roof. A She Shed is the space where a woman can have time to herself, feel at home and comfortable, so it is essential that the shed is built professionally and correctly. Using a professional company to build your She shed also generally comes with a warranty for several years which means you'll be covered if anything goes wrong.
If you are ready to build your Texas She Shed, go to Leland's Barns and Sheds today to fulfill your dreams, and get started on Yours!
Blog written by Krystle D.